I spent a lot of time researching which "high security" system I would buy into.  I did this because the manufacturer often requires that you "buy in" to their system, meaning you might have to spend $15,000 minimum to get the hardware and their confidence.  I didn't want to blow this kind of money on just any system, I want a security product that provides my customers with very good security and great value.  I had to weigh the strengths and vulnerabilities of each manufacturer's offerings.  I looked at Mul-T-Lock, Assa, Schlage, Medeco, and CX-5.
One of Mul-T-Lock's vulnerabilities among others is that with a certain kind of tape and a thin key one can bypass their locks, despite the brilliant engineering that went into their dimple keys and telescoping pin design.
Medeco is just too expensive and their locks are finicky; they stop working when the smallest particle gets in the keyway. They are also not impervious to various methods of covert entry despite the hefty price tag.
Schlage wants too much money for the Primus keyway and the cylinders wear out quickly.  Schlage wants too much money for nearly everything they make.  They charge me over $100 for an A series doorknob with a straight face.  List price for an A series knob from my distributor is nearly $200, and that doesn't include a cylinder!  Also Primus keys are made of the same cheap brass that any key is, and these keys are vulnerable to breaking off in a lock if people are using the key to pull a door open.  Of course, Medeco's Keymark keys are also vulnerable to shearing.  I like the Schlage Primus and its finger pin system a lot, but I want something less expensive.  Property owners in Seattle with money to burn can already select from a wide variety of locksmiths with high-priced locks.
CX5 is good enough.  Reasonably high security, compatibility, not overly expensive, etc.  CX5 cylinders have all of the same benefits that a lock cylinder three times the price has.  CX5 cylinders exceed UL437 with hardened steel pins to prevent drilling, a sidebar, and they give me my own keyway that is geographically unique.  To recap, CX5 has all of the physical security benefits of a Medeco or Primus cylinder, but for half the price.  I pass on those savings to you.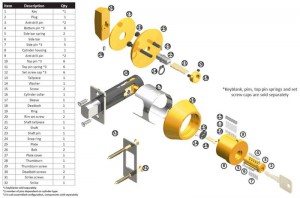 I know that many property managers think they are "locked in" to some of these proprietary high security systems because those are the locks they have on their doors.  However, the cost of maintaining these systems may be greater than simply having me install the CX5 system once.  Consider the cost of duplicating keys.  Do you have to pay your locksmith to drive to your building for duplicates of your secure building key, or can you drive to them and save yourself $75?  How much are you getting charged per key?  Many locksmiths charge over $15 for a Medeco key.  If you need over 100 keys, that adds up quick!
If your current locksmith is charging you to come out and duplicate keys and is overcharging you for the keys on top of that, you can see how it would quickly save you money to have me replace your Medeco or Mul-T-Lock cylinders with CX5 cylinders.  My keys cost a lot less: only $8.50, and yet come with the same restricted key control as with the bigger names in security.  The blanks are made of high quality nickel silver so they will stand up to a reasonable amount of abuse.
So next time you need your building's entry locks rekeyed, save yourself some money and call me for an estimate.  I can almost guarantee that it will cost you less to replace your cylinders with CX5 and distribute CX5 keys to all of your tenants than it will cost for your current locksmith to rekey and replace the current keys for your building, assuming you have some kind of protected keyway already installed.  If you want something that is restricted but not "high security" in that it doesn't have steel pins or a sidebar, ask me about installing MX cylinders for even greater savings!