Cost to install a panic bar exit device in your building:
$80 for a weekday service call in addition to…
$95 per hour to fix your panic bar or $120 per hour on the weekend or evening
$50 labor to replace the lock cylinder on your panic bar with a conventional rim cylinder or ic core cylinder
$225-1800 in parts for a new panic bar, depending on what quality of hardware you need for it and whether or not it is fire-rated, has a lifetime warranty, etc.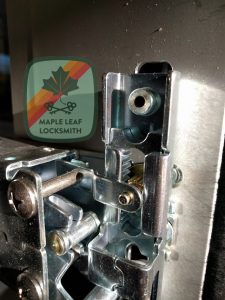 High traffic doors need locks that can handle the added strain of being used constantly. The most demanding environments for a lock are institutional settings like apartment buildings, jails, schools, and hospitals. These settings have people running into doors with large objects, kicking doors open, and possibly even trying to destroy the lock or door.
Of course the locks that are installed on these doors are more expensive. A doorknob from the hardware store might not last one day on the front door of a school, even if it were legal to install a doorknob there. No, time has shown that the only reasonable locking solution for such a door is a panic bar, also known as a pushbar. It is the only exit device that can handle a constant stream of people coming and going, many with a complete disregard for the facility they are in.
A panic bar is designed for this use and abuse. Like a crosswalk button, it is designed for muttonheads to stand there hitting it as hard as they can over and over until the light changes, as if hitting it harder or a few more times might have some effect on the speed of the light cycle. In the event of a fire a panic bar exit device is ideal because in zero visibility it is the easiest kind of lock to operate, hence the name panic bar. Schools usually buy Von Duprin panic bars. They are very expensive at $800-1800 per, but they can survive kicking and carts running into them all day and every day. For a less demanding environment, a less expensive panic bar can be appropriate. The important question is how many times per day the door will be exited.
If you are interested in price comparisons here is what I charge for some panic bars that I keep in stock:
$225.00 Import Taiwanese Uscan or Arrow brand
$600.00 grade 1 heavy duty import
$400-500 grade 1 heavy duty fire-rated with lifetime warranty
These might cost more if you want a different finish than stainless steel. The Arrow exit hardware is the same price for steel or bronze finish. Brass finish is a factory order and takes a long time to get and also costs around 10% more.
Above we consider the exit device. The other factor is what will be on the entering side of the door. If people will not be entering through this door, then nothing at all is needed on the outside of the door. This is the most secure option because there is no lock to manipulate, cut off, glue shut, or drill. The simplest lock for the outside of the door is a regular rim cylinder. The advantages of the rim cylinder are that it is the cheapest option, and also unlike a doorknob or a lever there is nothing to hit with a hammer or force over with a wrench. There is just a keyhole on the door. In combination with a pull handle, this is a very secure option.
If you want an electronic device with user codes or logging capabilities it is possible to install one that will interact with your panic bar.
Marks makes a quality electronic rim device for $730 that features 160 user codes.
Alarm Lock makes a few rim devices for $850-1671 depending on whether you want to use prox cards or not. They are weather resistant and offer scheduling events as well as an audit trail.