Do you have to push or pull on your door to get your deadbolt to work? This can lead to a lot of problems. You could break your key off in the lock, your friend who is housesitting might think the lock is broken, the tailpeice that functions to retract or throw the bolt could break off, etc. Not to mention the improvement to your quality of life that can be had by easily locking or unlocking your deadbolt with one hand. There are also security implications if your door doesn't have a deadbolt. If there isn't a deadbolt, your deadlatch and strike have to be positioned perfectly or somebody will be able to open your door with a credit card or butter knife or other thin implement, as seen in the video below.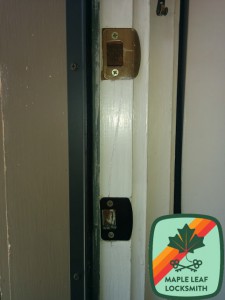 The usual reason that the strikes are mis-aligned is because the original installer didn't mortise them out correctly. Either that or another guy came along and installed weatherstripping and then adjusted the strike for the latch (knob or lever) but not the deadbolt because it is more work.
If it isn't too hard to shut the door afterwards I prefer to move the latch strike so that when the door is shut the bolt throws effortlessly. If the weatherstripping is really thick this may require slamming the door really hard and that is not ideal. In that case the deadbolt's strike has to be moved or material must be removed from the strike. The proper course of action is to move the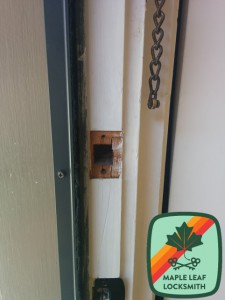 strike because if you modify the strike itself it removes the ANSI rating. If too much metal is ground away the strike's functionality is compromised and somebody might be able to kick your door down too easily. If the strike is moved and the holes are drilled properly far enough away from the old holes there is no compromise in security but the lock will function effortlessly, the weatherstripping will work properly, and the latch will not fail prematurely.
If the latch strike is too close to the weatherstripping so that you have to slam the door to get the door to latch, a great deal of pressure is being put on the latch. This will cause the latch to fail.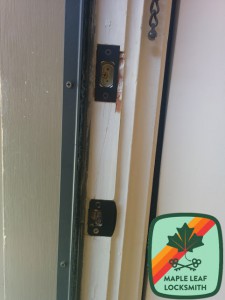 I will change your strike placement for anywhere from $5-35 plus a service call of $120 if you are in North Seattle.  Or you can do it yourself.  It isn't hard if you think about it to figure out where the strike should be.  In most situations all this fix requires is a drill, a 1/8″ drill bit, and a phillips screwdriver.  I can also provide you with a high security strike plate if you are concerned with people possibly kicking down your door.  Proper strike placement is integral to your security.  If your latch strike is not properly placed somebody could open your door with a credit card.  This is usually very easy if the door has weather stripping installed because there is enough give to bypass the deadlatch.  If you have weatherstripping you need to use your deadbolt.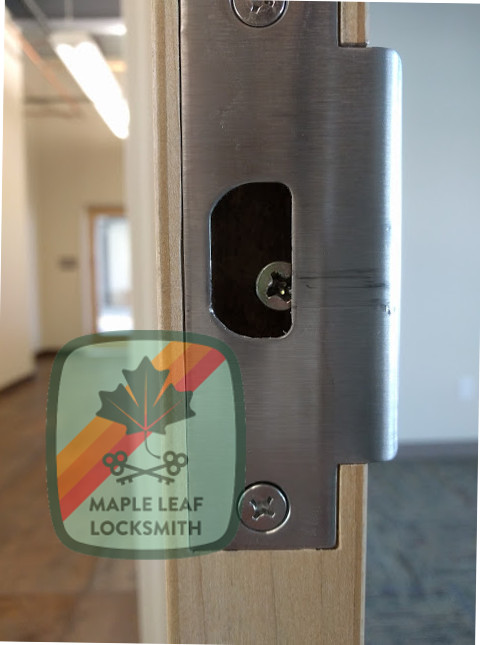 If you want to fix a deadlatch strike that isn't aligned correctly it is possible to do very easily by running a screw so that the deadlatch works properly. I did this for a good customer recently. He had French doors with no drop rod on the inactive door. That means that you can pull the door a lot and get the deadlatch to drop in to the strike hole and then open the door very easily with any flat skinny object; junkies like to use butterknives.