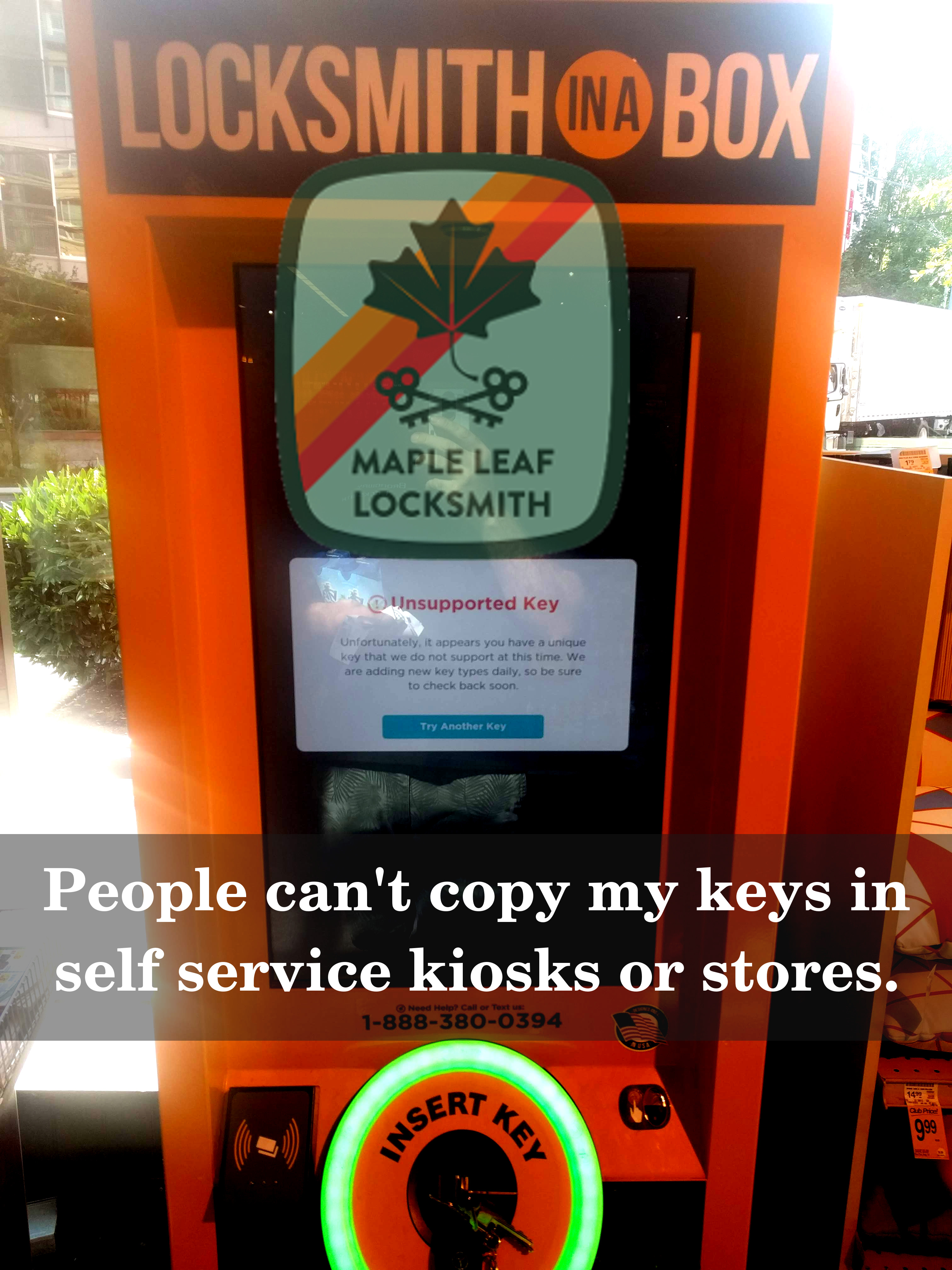 What can a restricted keyway do for you?
Key control – restricted keyways limit unrestricted key copying through legal mechanisms
…or prevent lock bumping. To make a bumpkey first somebody has to get a key blank that works in your lock
High security UL437-rated lock cylinders are difficult to drill through or manipulate with lockpicks, bumpkeys or other conventional methods of lock bypass
A higher security cylinder only costs $50 more and may be compatible with your current deadbolt
---
Contrast the restricted keyway to a regular "Do Not Duplicate" key. Somebody might take your DND key to a unscrupulous locksmith or a hardware store where the clerk may not see the Do Not Duplicate stamp.
Do not Duplicate keys are happily duplicated by KeyMe kiosks. The company has given their reasoning on this decision here.
There are colored plastic covers people can slide over key heads for identification purposes that may obscure the stamp that says do not duplicate.
If somebody breaks the head off of the key and ask a locksmith to make new keys from their broken key, they won't know it is a do not duplicate key. They will happily make a new key that doesn't say Do Not Duplicate, and from this key the tenant can make numerous unauthorized copies of your building key and maybe make copies for all of his friends.
There is no legal restriction for copying DND keys. Most locksmiths will only ask for a business card or an authorization form on letterhead from the property management company that oversees the building. Microsoft Word has plenty of templates for making your own letterhead that would make any locksmith happy to copy as many keys as you want.
---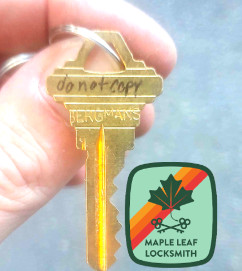 Restricted keyways require an ID or special card along with ID to duplicate a key regardless of the key saying do not duplicate or the head is broken off or if there is a fake authorization form. The hardware store won't have a restricted keyway. Usually other locksmiths won't have a restricted keyway but even if they do share a common one they signed a legal agreement not to copy any keys without some proof of identity. The only way to circumvent this would be to forge a legal id or key control card or to try to copy the key using a 3d scanner and milling machine of some kind or maybe some 3d printer.
As you can see, a restricted keyway confers all kinds of benefits to your key control. The hurdles to copying such a key are higher and more numerous and this is just in consideration of unauthorized key duplication, not taking into account other benefits such as the increased difficulty of forced entry.
High Security Cylinders provided by Maple Leaf Locksmith:
Restricted Keyways (Less money, still better than your lock)
Semi-Restricted Keyways (Very inexpensive, still legal protection against unauthorized key duplication)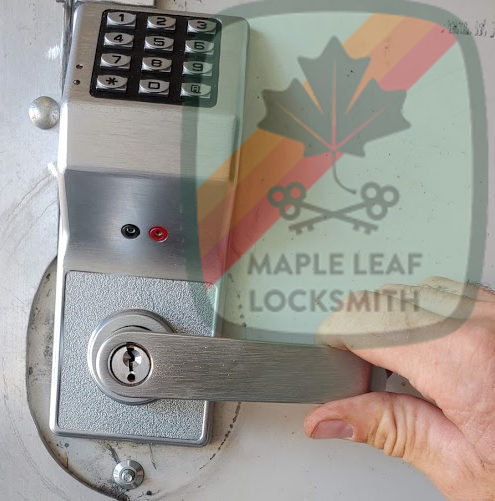 High security lock cylinders confer key control but have the added benefit of making it hard to drill through or manipulate the lock using tools like lockpicks or bumpkeys. All locks are able to be manipulated but high security locks take exponentially more time and skill. The lock to the right retails for about $800 but without a high security lock cylinder it is no more secure from drilling than a $30 lock from the hardware store.
CX5 is high value security.  Reasonably high security, compatibility, not overly expensive, etc.  CX5 cylinders have all of the same benefits that a lock cylinder three times the price has.  CX5 cylinders exceed UL437 with hardened steel pins to prevent drilling, a sidebar, and they give me my own keyway that is geographically unique.  CX5 has all of the physical security benefits of a Primus cylinder, but for half the price ($60 for UL437, $50 for a regular one).  I pass on those savings to you.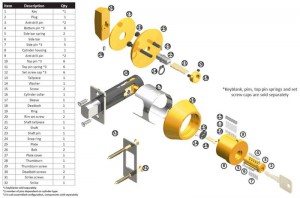 I know that many property managers think they are "locked in" to some of these proprietary high security systems because those are the locks they have on their doors.  However, the cost of maintaining these systems may be greater than simply having me install the CX5 system once.  Consider the cost of duplicating keys.  Do you have to pay your locksmith to drive to your building for duplicates of your secure building key, or can you drive to them and save yourself $75?  How much are you getting charged per key?  Many locksmiths charge over $20 for a Medeco key. If you need over 100 keys, that adds up quickly! At 100 keys you could save $700 dollars if you go with me vs. $20 Medeco keys.
If your current locksmith is charging you to come out and duplicate keys and is overcharging you for the keys on top of that, you can see how it would quickly save you money to have me replace your Medeco or Mul-T-Lock cylinders with CX5 cylinders.  My keys cost a lot less: only $8.50, and yet come with the same restricted key control as with the bigger names in security.  The blanks are made of high quality nickel-silver alloy instead of brass so they will stand up to a reasonable amount of abuse.  If you have Keymark locks on your building I don't have to tell you how often these keys break off in the lock; you've probably already paid locksmiths to come out and remove broken keys from your locks!
So next time you need your building's entry locks rekeyed, save yourself some money and call me for an estimate.  I can almost guarantee that it will cost you less to replace your cylinders with CX5 and distribute CX5 keys to all of your tenants than it will cost for your current locksmith to rekey and replace the current keys for your building, assuming you have some kind of protected keyway already installed.
CX5 locks come in two varieties: UL437 rated and not UL437 rated.  Both have a sidebar and are just as difficult to pick but UL437 is much harder to drill through because of the addition of nine hardened steel pins.  Coupled with a good deadbolt like the Schlage B660, your door is well-protected.
Another option is the Abloy Protec2. The Protec2 combines a novel design using discs instead of spring-loaded pins. There are legal restrictions on copying keys for these locks. The protec2 cylinders come in many formats and can be retrofitted into most locks of decent quality.
The important distinction that Protec2 keys have is that the keys can't be copied with a 3d printer. The key isn't static, there is a ball bearing in the key that would be very difficult to reproduce.
Abloy is also about to release a protec2 cylinder with an electronic component bringing scheduling and audit control to a simple key in knob cylinder. This is one of the first instances of two factor authentication for physical security and I think it will be the future of commercial and residential security.

I can also install Medeco locks if cost is no concern. Medeco grade 1 deadbolts cost $215, or $115 for a cylinder to put into a Schlage deadbolt. I do not copy Medeco keys however. If you need more than two keys the lock is supplied with a card that gives you the ability to get more keys delivered. I have been certified by Medeco to work on Medeco locks up to M3.
If you are not concerned with people drilling your locks out but still want some small amount of key control, read on!
Reasonably High Security
I can supply you with the MX2 keyway, one which locksmiths and distributors are legally bound to not sell blanks or copies of.  If you get MX2 locks from me, I write down your name and bitting and encrypt it for safe storage.  If anybody asks me to copy an MX2 key, unless I made it I will say no.  Every other locksmith that has these keys is legally bound to say the same.  The MX2 keyway has no high security features like a sidebar, but it is also a very difficult keyway to pick and due to key control it is very difficult to get keys to make bumpkeys out of.  The MX2 does come with spool pins which make it more difficult to use a bumpkey or lockpicks against it.
This keyway is also good because it is much more difficult to pick these locks due to a finger pin.  While lacking all of the bells and whistles of the CX5 or the Primus cylinders, it is suitable for locking things like cabanas/pool areas, laundry rooms, garbage areas, and other low security places where you don't want people to go without a key but you also don't want people to be able to copy the key at Home Depot. Schlage has stipulated that their Everest keyway is only to be sold to locksmiths. The patent on the first Everest keyway is expired so it is now legally possible to get C123 Everest key copies at the hardware store, though I have never heard of any hardware store that had these keys. Even many locksmiths don't stock Everest keys.
Caveats:  The Schlage Everest keyway is only semi-restricted so copies can legally be made anywhere unless it is a Primus Everest key.  If somebody files an Everest key down it can be used to render the cylinder no more difficult to pick than a regular 6 pin lock.  Of course it is still much more secure than a six pin lock because what criminal carries around filed down keys?  It still bears mentioning that it is trivial to get one of these keys and make a bumpkey out of it, though these locks are more difficult to use bumpkeys on.
No Keyway at All
Sometimes the best lock is the kind that has no keyway at all.  If you have enemies breaking keys off in your lock or maybe squirting glue all over it, you may be wondering; "How can I avoid paying a locksmith $150 to come out and fix this every week this jerk ruins my lock?"  The answer is to get a lock with no orifice on the outside.  You need an electronic lock that uses codes, fobs, or bluetooth authentication.  Then people can pour all of the glue they want on your lock, it will still work because there are no moving parts exposed on the outside.  There isn't a hole to break a key off in.
Some of these locks are more expensive but when you add up the cost of calling people out week after week, the costs start to make sense.  Add to that the ability to have audit trails of who came in at what time, disposable entry codes, and the ability to program additional codes or remove codes yourself and you can see how over the long term you can save your business immense amounts of money.  I have restaurant owners as clients and I tell each of them about this solution because they stand to save the most money.  Some of them have me rekey their restaurants every three months!  For awhile one of my clients paid me to come out every saturday morning to remove pieces of beauty bark from their lock for many weeks in a row.  If they got electronic locks they could add and delete employee codes themselves and never have me come out again!  Until they want an upgrade at least.