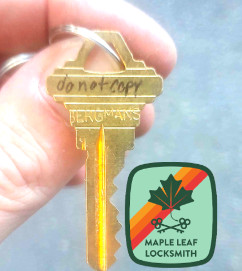 So you have a key that says Do Not Duplicate on it? The reason is whoever owns the property that key works at doesn't want you to duplicate that key. In fact, they probably paid a dollar extra for the key to say this on it. If you have a good reason to duplicate that key, you should ask whoever originally gave it to you for another copy. The property manager wants to control who has this key and how many they have, and it may be for your own safety and that of others who use that building. You wouldn't want somebody in your building to make fifty copies for his or her friends so they can use the community pool or laundromat and have all kinds of random people wandering through your building. Maybe friends of friends would also make key copies and soon your building would be overrun by random people doing who knows what.
If that person then tells you to "just take it to X locksmith, they will copy it for you, just tell them I sent you", they are deluded. Most locksmiths won't just copy a key that says Do Not Duplicate, because then nobody would pay an extra dollar for keys that say this on it. The whole thing would be a joke, and it doesn't make good business sense. The DND message is not legally binding. I can legally copy these keys for anybody. I still won't do it without proper authorization, and neither will most other locksmiths. I will only copy your DND key if you bring a letter on company letterhead explicitly stating your name and how many copies you are allowed to make. The letter must have a phone number and the person on the other end must pick up the phone and confirm who they are before I will copy the key.
I noticed while reading other locksmiths' Yelp reviews (I have to find out how high the bar is placed!) that a locksmith in University Village apparently will copy Do Not Duplicate Keys (for a price). Multiple reviewers note that they are the only locksmith that will copy these keys. This is why property owners who really care about key control are advised to invest in controlled keyways. There will always be somebody who will copy keys, everything has a price. I have keys that people cannot take to a kiosk in a parking lot and duplicate, because he does not have access to those keys. Even if somebody offered him $200 for a key copy, he would not be able to duplicate it unless he has some sort of exotic milling machine in his kiosk and the time to replicate a blank.
The other reason to avoid using common keyways are outlined by these suggestions to circumvent the Do Not Duplicate message on a key. The good people at Metafilter suggest that putting tape over these keys will thwart the guy at the hardware store. Alternatively, a ne-er-do-well trying to circumvent this could simply cut the head of the key off and ask that it be duplicated. I copy broken keys frequently, and it isn't hard to do. Somebody could also measure the depths of the cuts on their key that isn't supposed to be duplicated and call a locksmith and ask them to code cut it to those depths. Locksmiths usually know how to cut keys to specific depths, if they don't they aren't "worth their salt".