I don't take any responsibility for anything that might happen or who might be maimed as a result of your interpretation of these directions which are clearly provided for entertainment only.
Ultraloq deadbolts are starting to become more popular in the residential electronic deadbolt market. They are even being carried at Home Depot. I guess that means they are at least as good as the Defiant brand electronic deadbolt. Not exactly a high bar but back to Ultraloq…
If you want to know it installs pretty easily and seems to work fine for the brief amount of time between me installing it and getting paid and leaving. At this point I've only installed a few that didn't work correctly out of the box for customers (I don't stock, sell or warranty them). If you have a modern tubular deadbolt that works without pushing or pulling on the door it will probably not be too hard for you to install one of these in its place.
The model I've seen comes with a key override and to the untrained eye it uses a schlage key. That's because the manufacturer bucked convention and used a kwikset key with a schlage head on it. That's a tad obnoxious, it is going to cause a lot of head scratching all over the world when people ask why their keys that look exactly the same can't be made to work in their new lock. It would be like labeling shoes as sized for men when they are really size 10 women's.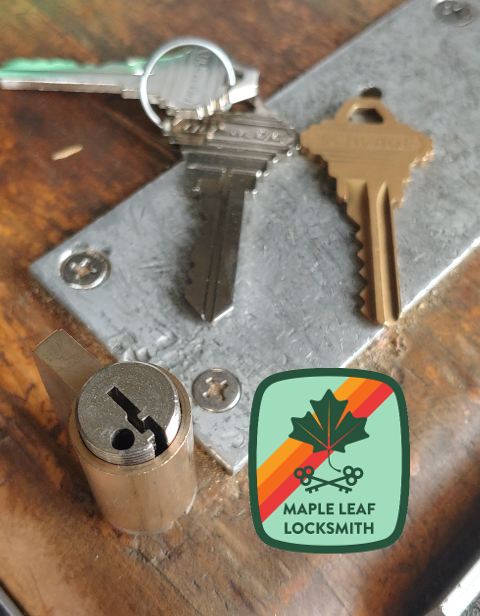 Many people won't care and will put the keys that come with it in their desk drawer to be slowly shoved to the back with all of their dried up pens and other assorted flotsam, but for those of you who want or even demand their schlage key work in their new deadbolt, I have the answer for you because I have done it and after a weeklong vacation in AZ I felt unhurried enough to document how to do this for you. Read on, all three of you!
Obviously this lock cylinder will only work with kw1 keys so we're going to have to replace the cylinder with one that is SC1 compatible. Wait! Before you reach for your 5 gallon bucket of SC1 cylinders, know that the manufacturer made their cylinder a smaller size than regular 99 type or "universal" kik cylinders. You can't use a normal cylinder without reaming the space for the cylinder out to a larger size. You CAN use an Emtek cylinder or any cylinder made to work in an Emtek deadbolt though as long as it isn't longer than the original meaning it must be a five pin.
Those malcontents at Emtek are the only large manufacturer to use these smaller stupid cylinders but I've done a good business selling better cylinders made by CX5 to fit in them, Medeco also makes cylinders that will work. As a result I have a few Emtek cylinders that will work for this.
The Emtek cylinder slides right in! If you have a tailpiece for an Emtek deadbolt, you're golden, you can just put the whole thing back together and plug in the batteries and forget all about the nasty details of tailpieces and keyways and other outtakes of my daily struggles.
I usually reuse the tailpiece on the new cylinder when I replace them so I don't have Emtek tailpieces. The blockheads at Ultraloq copied the format of the Emtek cylinder but decided to move the hole for the spring loaded cap pin 180 degrees to the bottom of the cylinder for some reason which means the timing is off for their weird tailpiece. It will not fit through the deadbolt because of a nubbin they added on.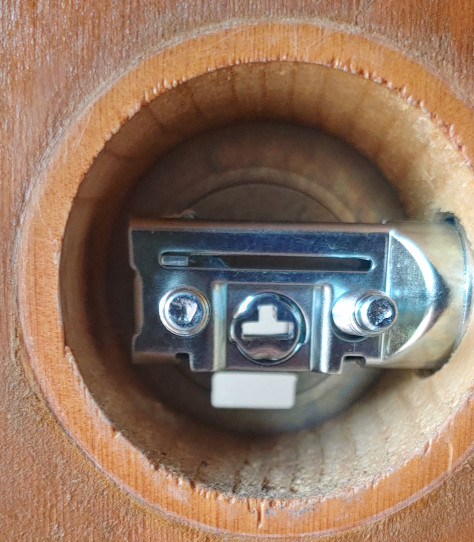 So, you'll have to cut that nubbin off. I ground it off with my angle grinder, took ten seconds. If you have a bench grinder that would work well too. I suppose you could just file it off. Once the protuberance of delight has been removed from the tailpiece you can reassemble the deadbolt. First some little screws hold on a sort of stop to keep the cylinder from being pushed back. Then a black plastic thing slides over all of it and is also held in place with an exceedingly small screw. I hope after all of that you remembered to rekey the Emtek cylinder to the SC1 key!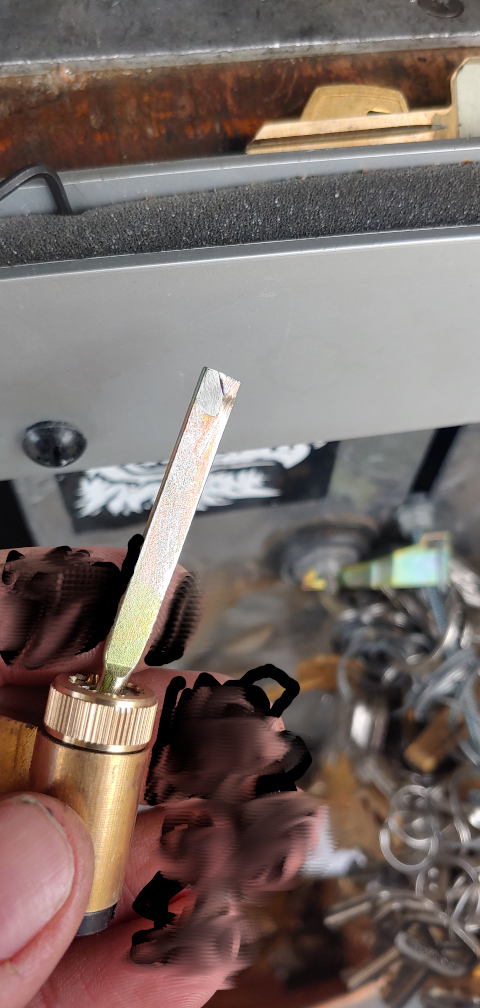 The point of the stupid protuberance on the tailpiece is to make sure idiots like us don't try to put the tailpiece through the bolt in the wrong orientation. That would confuse the deadbolt, it would think it was locked when it was unlocked or maybe that the moon landing was faked. Now that we ground that protuberance off, the deadbolt is no longer idiot-proof. You have to put the tailpiece through the bolt horizontally when the bolt is in a retracted state, though at this point the tailpiece is upside down and it should still be horizontal when the bolt is not out.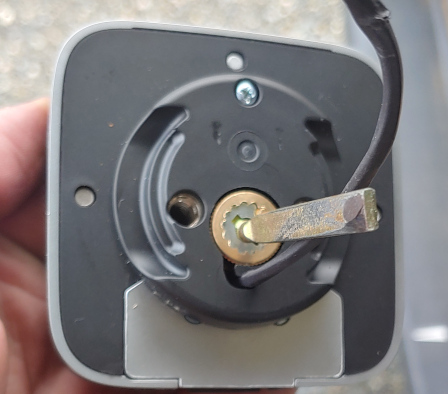 Update: I found replacement screws for screwing in the bracket that holds the cylinder i place. The ones included won't work with a 6 pin cylinder so you can either grind the back off the bible or you can replace the screws with m2.5 screws.
At this point just follow the rest of the instructions and enjoy using your normal house key on your new electronic deadbolt against all efforts employed by Ultraloq.