Most people are familiar with the locks they encounter every day in their own home. These are typically entry function and passage function locks. There are many more functions available to you to suit your particular security needs. I stock the functions listed here in the most common finishes which are dull chrome, bright brass, and duranodic or oil rubbed bronze. I also stock some locks in less common finishes like aged bronze, satin nickel, bright chrome, etc.
Passage function locksets
…are just to hold the door shut. They are advantageous mainly because you cannot lock yourself out with a passage lockset unless the lock breaks.
Entry locksets
Entry locksets allow you to leave the door locked or unlocked. Some of these are very easy to lock yourself out with. Probably over 50% of lockouts I service are old Schlage F series entry knobs that don't unlock when you turn the knob. You won't notice the door is locked until you try the lock from the outside. Schlage updated their F series locks to automatically unlock when the lock is used to open the door from the inside, and this is the type I always install.
Storeroom locksets
Storeroom locksets are always locked from the outside. These are great for any door that people forget to lock like shared laundry rooms, front doors of apartment buildings, liquor or drug storage areas or, well, storerooms. Employees can't always be trusted to remember to lock the door. These guarantee that the door will be locked as long as somebody doesn't prop the door open. For storeroom locks to work properly there should also be some sort of automatic door closer installed. Storeroom function locks are very easy to lock yourself out with. If you set the keys down inside a room that has one of these locks to pick something up and walk out in a hurry, you may be calling me.
Other common uses for storeroom locks are bathrooms in city settings where there is a concern about vagrancy or drug use. The key is kept behind the counter where the staff can monitor who is using the bathroom. This setup may drastically reduce the number of needles and even corpses found in store bathrooms which as become an all too common problem in Seattle due to the rise in the homeless population along with opiate addictions. If there is only one key available to the public it also guarantees that nobody will be walked in on while in the bathroom. I install many of these in coffee shops, gas stations, department stores, etc. Frequently people will forget the bathroom key inside the bathroom so it is useful to have the bathroom lock masterkeyed, allowing the bathroom key to open the door as well as the entry key that the employees have.
Classroom function locksets are not well known to the general public but can be very useful for certain applications. These can be left locked or unlocked but only with a key. There is no button or other device on the inside of the door for locking it, so people can always exit the space making it compliant with fire codes.
I suggest their use for the front door of a shop or store. It won't do to have a shop with an entry lockset because children or pranksters can lock the door on their way out and you may not notice the door is locked, meaning you lose customers and sales. Some entry function locks are easy to accidentally lock. For example if the door opens far enough that the lock hits the wall, the lock button may get pushed in by the wall. The button might get pushed in by a clumsy person accidentally pushing it with their body. The classroom lock guarantees that only you can leave the door locked or unlocked.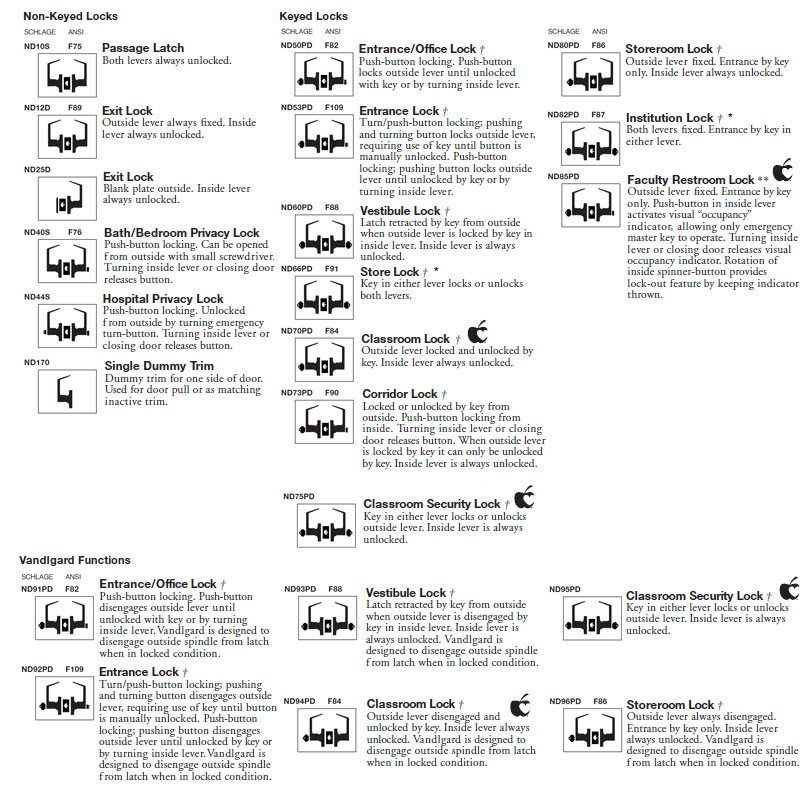 There are lots of different functions for locks aside from these as you can see from this helpful graphic. Some functions must be carefully considered before installation. Free egress is required for a space open to the public in case of fire or some other emergency, meaning you can't lock people inside a room. Fire exits always require free egress when the public is allowed inside! This means that I won't install an asylum lock that locks the door shut from both sides on a fire exit. People are always asking me to do this but it doesn't make sense in most applications. Usually the only place I recommend installing these is on exterior gates. Even then customers frequently change their minds after the UPS man gets locked in their yard for example.