I can install a deadbolt, doorknob or latch guard on your door even if there is no hole for one. In fact I can install a lock on almost anything that needs securing. If asked I will advise you on how to improve your security, what locks to install for your needs and budget, or simply install a lock that you have already purchased if that lock meets legal requirements for the application.
Total cost tax already included is:
$75 Service call to North Seattle
about $10-20 labor if holes are already drilled correctly, not including parts.
about $45-55 labor if holes are not already drilled, not including parts.
$75/hour training you how to use your lock if it takes longer than ten minutes.
$15 extra on the weekend and after 6 pm.
The cost of the lock itself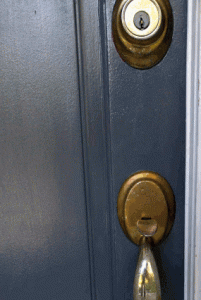 You can supply the parts, or buy them through me usually at 10% less than MSRP. I can help you with deciding which lock(s) to get. I can't guarantee the robustness of hardware you buy elsewhere. If you want to buy through me and get a guarantee, look here for locks and prices from my distributor. If you don't specify I will probably recommend Abloy, Arrow, Schlage, Emtek or Marks hardware.
My top of the line security locks are
There are a lot of options you may not be aware of in the world of locks. Recent developments include bluetooth 4.0 locksets that interact with your smartphone and can automatically unlock when you walk up to the door from the outside.
How secure these locks are remains to be seen. Real world vulnerabilities have not yet been seen exploited in the wild.
A good inexpensive ($45) deadbolt is the Uscan single cylinder grade 2 deadbolt. If you are getting a deadbolt for an exterior door and there has been criminal activity near or in your neighborhood, consider getting a high security UL-437 rated cylinder like the CX-5 for an extra $70. This gives you steel pins and hardened steel inserts to prevent drilling your lock open along with the added security of a sidebar, analogous to adding two factor authentication to your lock. A CX-5 cylinder will prevent bumpkeying, lockpicking, drilling, etc. and also give you the benefit of restrictive key control. Such options may seem like overkill but before you discount the need for these things, consider this:
The Seattle Police Department now (2013) has the same number of police they had in the 70's on the force
The population of Seattle is now much greater than in the 70's
The response time of the SPD for attempted breaking and entering your house in progress while you are home could be nearly an hour (See this comment)
If you are the person inside bracing the door against somebody that is trying to kick it down from the other side, you are not going to be so happy about saving $10 on a lock. You are going to wish that you had a thicker door, thicker door frame, security strike, and a lock that you can trust.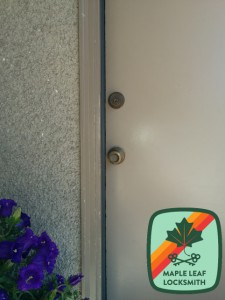 Color and style should be a consideration, as a lock is one of the first things somebody sees when they walk up to your house right after your garden. Locks don't have to be ugly or scratched or rusty; they can be elegant and beautiful. I can get locks in any color you need. Here is a really good introduction to how to pick the color of your lockset. Look at the style of other fixtures in your house. If there is already a cohesive style in the faucets, lighting, and window rods, it may be a good idea to go with the pre-existing style.
If you share a house or you live in a shared and secured building, all you may really want is a locking doorknob. If you are a landlord, you are actually legally required to provide locks on the doors of every room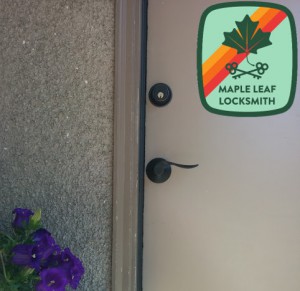 you rent. Doorknobs are the cheapest way to provide this if your door doesn't already have a lock mechanism on it. A ">keyless entry using codes or even fingerprint scanners or other biometric authorizations. Maybe you just want a chain on your door, or some exit mechanism like a panic bar. If you want an inexpensive locking solution that is bumpproof and pickproof, and impossible to lock yourself out, I can install a one-sided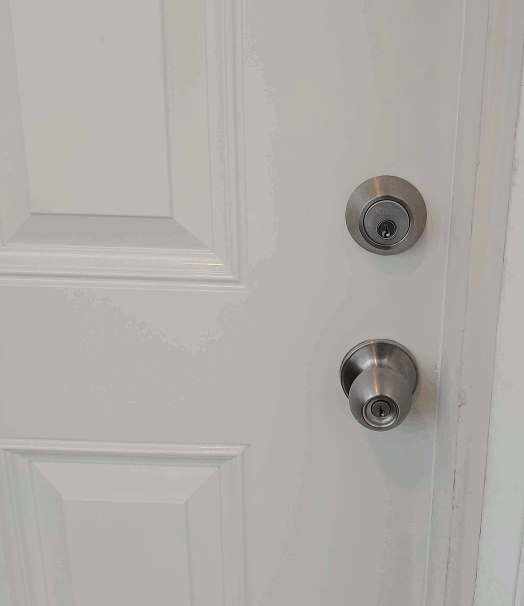 Replacement locks for an updated appearance.

If you are a business owner, maybe you need a retrofit anti-bump kit or change your locks to use an obscure keyway. In many cases I can sell you a different cylinder to go in the lock you already own, but that doesn't fit keys found at the hardware store. The advantage to this is that most people who have bumpkeys only have them for Schlage and Kwikset keyways, the two most popular. This is an inexpensive way to improve your lock's security. I can even sell you replacement cylinders that fit your pre-existing locksets that have keys that are only available to locksmiths, and legally can't be copied without authorization by the owner of the key!

I take no responsibility for what you do with the following information:
If you are a capable person with an inquisitive mind, it isn't rocket science to install a basic deadbolt or doorknob from Home Depot (don't get a lock at home depot, if you want quality and do it yourself go here). The lock usually comes with directions. You can even get sets with four locks all keyed to the same key. It is possible to install them wrong, and if you do do it wrong on your only door and end up locked out it is an embarrassing mistake. If you aren't afraid to try though you can do it yourself, if the holes are already in your door. All you should need is a screwdriver. Home Depot used to rekey locks for $5 each if you bring them the lock, too though I heard that they no longer do. I cannot speak for the quality of their rekeying work, nor for that of their key cutting, but they will certainly try to do it. This is a viable option if you can have somebody stay home to guard your house while all the locks are off the doors.

I am of course happy and willing to do the work if you are not comfortable with doing it or just want it professionally done without any scratches on your door or lock. Installing your lock professionally by Maple Leaf Locksmith means it will probably last longer, it won't come loose when a burglar is attempting to bypass it, etc. Peace of mind is worth a lot. If you are confident in your abilities or unconcerned with the longevity and comparative security of installing it yourself, here is an edifying video on the subject:

Brands that I sell:

Brands: